d-tech series technology

D-TECH is a type of digital switch-mode power amplification design that is highly advanced and delivers a tremendous amount of power and very clear sound in a very small size. The D-TECH digital power amplifier can deliver several times more power than other amplifiers of the same size and weight. It also sounds better, and is more reliable.

The D-TECH digital power amplifier maintains output voltage at stable levels, even when up to three speakers are added per channel. This control feature sets it apart from conventional amplifiers, which start reducing output voltage well before overloading point has been reached. Providing high damping factor even when clipping.
How D-TECH output voltage drops with increasing speaker load compared with others
| | |
| --- | --- |
| The graph on the right shows that maximal output voltage remains at a constant level until a pre-set point is reached, regardless of how great is the load. Compare that to conventional amplifiers, which start decreasing maximal output voltage straight away, as soon as any load is connected. Using the D-TECH digital power amplifier, you can even add three speakers to each channel without noticing any reduction in sound quality. The amplifier will increase power accordingly, but with no reduction in output voltage. | |
After a pre-set overloading point is reached, D-TECH's automatic control mechanism (AGC) comes into effect, to limit output current automatically. This provides absolute protection in the event of a short circuit, which conventional power amplifiers cannot match.
Graphic: How D-TECH maintains power output level even when input voltage drops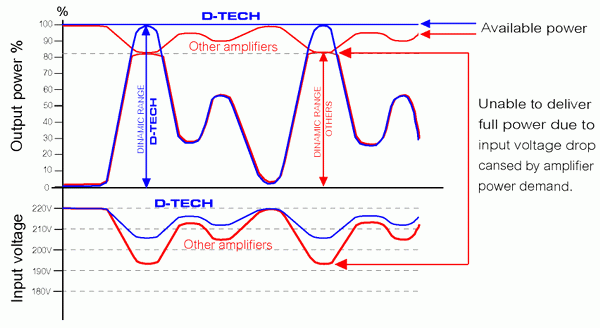 Voltage input supply drops depending on demand and distance from the power source. This can be important if a power amplifier is a long way from the power source. The graph shows how D-TECH's power amplifier maintains power at consistent levels which other products fail to achieve. D-TECH can take electrical power fluctuations of 170-260 volts without any loss in power output levels, thereby maintaining high dynamic range.
D-TECH series built-in protection features
D-TECH's automatic gain control (AGC) device limits output current automatically. This makes the amplifier very reliable, and extremely unlikely to sustain damage. The AGC monitors the output current constantly, and if the current exceeds its pre-set level, it will restrict the signal to keep the current within those limits, regardless of how hard the short circuit or extent of overloading.
In the event of a short circuit, the AGC limits the signal immediately, which protects the amplifier from shock caused by a surge in current. With conventional amplifiers, there is a short delay, while the amplifier takes energy stored in capacitors to tide it over. That delay in adjustment can prove fatal to the power transistors – but not with D-TECH, where the AGC limits the signal instantly, ensuring the power transistors adjust to the short circuit in time.
As added protection, the power amplifier can withstand any sudden cut, drop or surge in mains power. The soft-start feature ensues that after power returns to operating levels, sound increases gradually rather than all at once, which safeguards the power amplifier and speakers.